Features of the Zing Laser Series
The High-Quality Features and Components That Make Up the Epilog Zing Starter Series: Features that work together to provide you with great engraving and cutting quality.
---
Upgrade to the Epilog Zing 24 for even more features: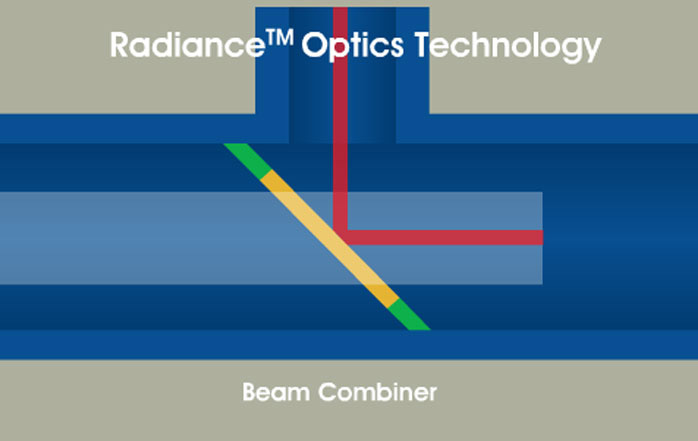 No additional, expensive lens packages needed for the highest resolution engraving with our Radiance™ Optics.
---
Resources to Help You Succeed:
No need to constantly refer to a pdf manual with our printed manual featuring over 270 pages of content.
Receive e-mail notification of new driver and firmware for your system and download updates from our website.
We host laser clinics across the United States designed both for current laser owners as well as those interested in lasers.
An online resource for you to access technical articles about your laser, software and the industry in general.
We produce two newsletters filled with customer stories, sample projects and industry news
Video training site that includes setup instructions as well as sample projects.
Download the latest project files from Epilog. Each month we add new files to spark your imagination.
We've put together a 25-page guide that discusses the basics of starting your own engraving and cutting business.
A listing of suppliers throughout the engraving industry where you can find all types of materials to engrave and cut.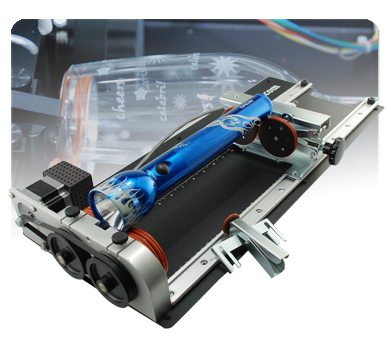 Rotary Attachments for Cylindrical Items
The Rotary Attachment allows you to engrave wine bottles, mugs, glasses, flashlights and more.
Introducing the Zing 24 Laser Rotary Attachment! Now you can engrave wine bottles, mugs, glasses, flashlights or any other cylindrical item up to 5.25" (133.4 mm) in diameter on the Epilog Zing Laser.
So intuitive and easy to use, you can switch from one glass to the next in seconds - without even removing the attachment from the engraver! In addition, our proprietary design provides accurate image scaling, so there's no need to input diameter or circumference calculations.
Setup is as easy as placing your product on the Rotary Attachment, raising or lowering the scissor lift to level the engraving area, and printing to the laser!
*The Rotary Attachment is not available for the Zing 16.*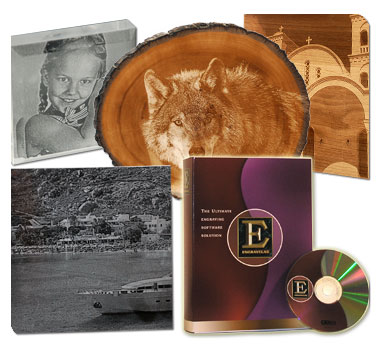 PhotoLaser Plus Software
Photo processing software that optimizes your photographs for engraving on a variety of materials.
PhotoLaser Plus takes photo engraving with your Epilog Zing Starter Series laser to the next level by easily processing photos for engraving on all types of materials.
Are you looking for a system that engraves outstanding photographs? How about a system that engraves photos in a consistent, predictable way for your customers?
Epilog Laser has partnered with CADLink to bring you the industry's best photo processing software: PhotoLaser Plus. The easy-to-use software interface and powerful photo processing tools allow you to create the highest-quality photo engravings in the industry.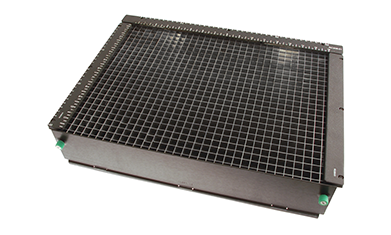 Vector Cutting Grid
Create better edge quality when laser cutting.
The Vector Cutting Grid on the Epilog Zing laser is used to lift materials being cut above the work surface. This allows the laser beam to pass cleanly through the material you are cutting and dramatically reduces underside reflections.
The air space below the vector grid is connected to the exhaust, so smoke is removed not only from the top side of the material, but also from the underside.
Epilog Zing Laser Series Models
Two models to choose from to meet your needs.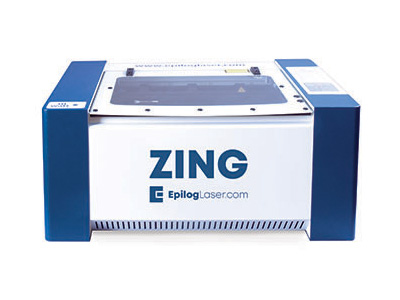 Epilog Zing 16 Laser: The entry-level model in our laser product line, the Epilog Zing 16 provides a 16" x 12" work area, but with the highest-quality engraving. The small format, low cost, high quality laser system by Epilog Laser. There is no skimping here - all metal chassis, high-end components, and the engraving quality that Epilog Laser is known for. All of this, and Made in the USA too!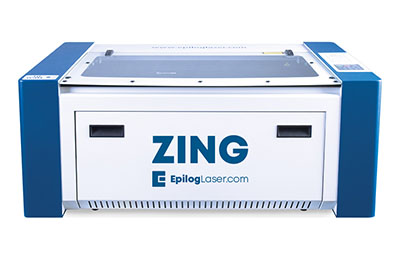 Epilog Zing 24 Laser: Move up to the Epilog Zing 24 for a larger work area (24" x 12") that holds most standard engraving stock material. A larger work area and more features make this laser an affordable choice for those needing more features than an entry-level machine. With a large 24" x 12" (610 x 305 mm) work area, you'll be able to easily fit the most common size for engraveable materials, and power choices of up to 60 watts means you'll be able to cut through thicker materials and engrave at higher speeds. The Epilog Zing 16 laser system is a powerful choice in entry-level laser systems.
Epilog Zing Series Technical Specifications
Epilog Zing 16
Epilog Zing 24
Engraving Area
16" x 12"
(406 x 305 mm)
24" x 12"
(610 x 305 mm)
Maximum Material Thickness
4.5" (114 mm)
7.75" (197 mm)
Laser Wattage
30 or 40 watts
30, 40, 50, or 60 watts
Laser Source
State-of-the-art, digitally controlled, air-cooled CO2 laser tubes are fully modular, permanently aligned and field replaceable.
Intelligent Memory Capacity
Multiple file storage up to 64 MB. Rolling buffer allows files of any size to be engraved.
Air Assist
Attach an air compressor to our included Air Assist to remove heat and combustible gases from the cutting surface by directing a constant stream of compressed air across the cutting surface.
Laser Dashboard
The Laser Dashboard™ controls your Epilog Laser's settings from a wide range of software packages - from design programs to spreadsheet applications to CAD drawing packages.
Red Dot Pointer
Since the laser beam is invisible, the Red Dot Pointer on Epilog's Zing Laser allows you to have a visual reference for locating where the laser will fire.
Relocatable Home
When engraving items that are not easily placed at the top corner of the laser, you can set a new home position by hand with the convenient Movable Home Position feature on the Zing Laser.
Operating Modes
Optimized raster, vector or combined modes.
Motion Control System
High-speed micro stepper motors.
X-Axis Bearings
Shielded Roller Bearing Assembly on a Ceramic Coated Aluminum Guide Rail.
Belts
Advanced B-style Kevlar Belts.
Resolution
User controlled from 100 to 1000 dpi.
Speed and Power Control
Computer or manually control speed and power in 1% increments to 100%. Vector color mapping links speed, power and focus to any RGB color.
Print Interface
10 Base-T Ethernet or USB Connection. Compatible with Windows® XP/Vista/7/8/10.
Size (W x D x H)
28.75" x 22.125" x 11.75"
(730 x 562 x 298 mm)
38" x 27.25" x 15" (965 x 692 x 381 mm)
Weight
95 lbs (43 kg)
140 lbs (64 kg)
Electrical Requirements
Auto-switching power supply accommodates 110 to 240 volts, 50 or 60 Hz, single phase.
Maximum Table Weight
The Zing 16 and 24 have a static table weight of 50 lbs (22.7 kg) and a lifting table weight of 25 lbs (11.5 kg).
Ventilation System
350 - 400 CFM (595-680 m3/hr) external exhaust to the outside or internal filtration system is required. There is one output port, 4" in diameter.
Zing Laser Series Videos
Watch videos about the creative laser applications available to owners of an Epilog Zing laser system, and the wide range of materials the Epilog Zing laser can engrave and mark.
Engrave
Cut
Wood
x
x
Acrylic
x
x
Fabric
x
x
Glass
x
Coated Metals
x
Ceramic
x
Delrin
x
x
Cloth
x
x
Leather
x
x
Marble
x
Matte Board
x
x
Melamine
x
x
Paper
x
x
Mylar
x
x
Pressboard
x
x
Rubber
x
x
Wood Veneer
x
x
Fiberglass
x
x
Painted Metals
x
Tile
x
Plastic
x
x
Cork
x
x
Corian
x
x
Anodized Aluminum
x
Stainless Steel
*
Brass
*
Titanium
*
Bare Metals
*
* CO2 lasers will mark bare metals when coated with a metal marking solution. For more information, visit our laser metal marking page.
Do you have a material you would like us to test? Our Applications Team would be happy to assist you.
Our entry-level unit is the 30 watt Zing 16 and that system starts from just $7,995 (US price only) -- a small investment for such a powerful piece of machinery! You can even lease to own the Zing 16 with payments as low as $150 a month (with approved credit). With a payment as low as $150 per month, you can pay for the system as you make money with the new cutting & engraving services you offer.
The cost of our various laser systems is determined by speed (stepper vs. servo motors), engraving table size, and laser wattage (ranging from 30 watts to 120 watts) and range from $7,995 to $66,500 (US price only). If you'd like help determining which laser is right for your application or receive pricing information, call us at +1 303 277 1188, or fill out our request form.
We're proud to say that all Epilog laser systems are 100% designed, engineered and manufactured in the USA at our headquarters in Golden, CO.
Yes! Even our famous Aztec Calendar engraving is created on the Epilog Zing Laser. The Epilog Zing is not as fast as the Legend Series, but the image quality is pure Epilog.
Yes! Personalization and customization of products is in high demand. Adding a laser engraving service to your current operation is an excellent way to reach possible new customers as well as offer a valued service to your current client base. If you have any doubts about the profitability of owning a CO2 laser system, visit our Applications page or read our many Customer Success Stories.

For some insight into the profitability of laser engraved products, take a look at the website for LaserBits, a supplier of laserable materials. There you will find purchase prices for raw laserable materials and suggested retail prices for those same products once they have been laser engraved.
Also check out our new Guidebook to Starting Your Own Engraving & Cutting Business to see the ins and outs of starting a new laser business.
You can engrave scanned photos, logos, bitmaps, other images, text, and AutoCAD files. Essentially, if you can print it, you can engrave it.

To cut, you will need a vector based graphic, such as an .eps or Illustrator file.

Keep in mind the higher the quality of the graphic you're working with, the better your engraving results.
Yes. Our fiber laser systems are capable of permanently marking nearly all types of bare metal. The fiber laser line was designed with a combination of affordability and high quality results in mind. The Fusion M2 series features a 32" x 20" (812 x 508 mm) or 40" x 28" (1016 x 711 mm) work area. The flat-bed, flying-optic design of the Fusion M2 is revolutionary for a fiber laser system and will mark metals over a large work area in a short amount of time.

And, though our CO2 laser systems are mainly designed to engrave and cut non-metallic materials, they can also be used to mark on metal with the aid of metal-marking compound. Download our PDF to learn more about marking metal with a CO2 laser system.

Since we use low power CO2 (30 to 120 watts) and fiber lasers (10 to 50 watts) the beam will clearly mark on coated and raw metal but our systems are not ideally suited for metal-cutting applications. Our fiber laser systems may be compatible for cutting some thin metals as we have seen success cutting thin foils, up to .012", with our fiber lasers.

Please contact our Applications Lab to discuss your metal-cutting applications and see if they can work with our systems!
Yes, the laser is completely safe to operate. It is a Class 2 laser - 1mW CW Maximum 600-700 nm, which means that the laser is secured with interlock devices so it will not run with the doors of the system open. No special safety gear is required to run the laser.
The cost of operating the laser can be easily figured out by plugging your electricity rates into the following formula using even our highest wattage laser, the 120 watt.
Typical Max power consumption = 1560 Watts (This assumes full power, constant laser on.) If power costs $0.075/KWH in your area, it is costing $0.117/hour to operate the laser. Or, about 12 cents per hour, or 96 cents per eight hour day. (1560 x .075)/1000 = .117
No, one laser does it all! Our CO2 laser systems will engrave and cut most non-metallic materials, as well as engrave coated metals. For information on what materials you can engrave and cut, visit our Materials page.

The laser can be set to engrave only (Raster Mode), cut only (Vector Mode), or can complete both operations in Combined Mode. The laser knows what portions to engrave and what portions to cut based on line width, which is easily set in your graphic design software.
Investing in a new computer is a great way to make sure you're getting the most out of your new laser equipment. Why? Because today's software requires a lot of computer processing speed and memory to function properly. A good computer won't make a huge difference in how your laser runs, but when compared to a slow computer it will save untold amounts of time and frustration setting up the artwork that you "print" to the laser. Many users do not purchase new computers for use with their new laser because their current computers are perfectly adequate. There's no magical cut-off that makes a computer too slow. If you're comfortable with the performance and speed of your current computer, there's probably no reason to purchase another one. The following recommendations are just options to consider if a new computer is necessary.
A new computer doesn't have to be expensive to work well! Even many of today's lower-cost computers work well for laser applications. As long as you don't buy the cheapest computer you can find you should be fine. One thing to avoid is the Intel Celeron processor – while they are good processors, and will work with the laser, they don't process graphics with the speed most laser users desire.
Operating System: All new Epilog lasers are designed to work with all versions of Windows 2000, XP, Vista, 7, 8, or 10 operating systems.

The Fusion Laser Series is also compatible with Mac operating systems OS X 10.7 and higher. Read more about our Fusion Mac Driver here.
RAM (Random Access Memory): 512 MB is recommended. RAM is kind of like short-term memory. It's fast, readily available for the computer to access and makes time consuming tasks go much quicker if you have lots of it. Most users won't notice a difference if they add more than 512 MB to their system, but almost all uses will notice the speed difference that 512 MB provides when compared to 256 MB (256 MB is essentially the next step down from 512 MB).
Processor Speed: A faster processor will allow you to do more tasks in less time. While it's not necessary to purchase the fastest processor available, you'll want either an AMD Athalon processor or an Intel Pentium IV processor (do not purchase a computer that is using an Intel Celeron processor – they're too slow for graphics applications). Processor speeds are always improving, but processor speeds of about 2.0 GHz or faster are a good place to start.
10/100 Network Interface Card (NIC): All new computers have a 10/100 network connection as standard equipment. As well as allowing multiple computers to be linked together in a network, this technology also allows direct printing from the computer to the Epilog system. Epilog supplies a network Crossover cable with each laser system that allows one computer to print to a single Epilog system.
20-30 GB Hard Drive: This is the permanent memory in your computer. Many users feel that you can never have a large enough hard drive, but for most laser applications 20 or 30 GB's is going to be adequate for years of storage. Luckily, most computer manufacturers put at least 20 GB drives in new computers these days. When in doubt, buy bigger than you think you might need. It's so inexpensive that it's worth the peace of mind to have it available.
The Zing 24 will hold items on the Rim-Style Rotary Attachment up to 5.25" in diameter.
The Zing 16 and 24 have a static table weight of 50 lbs (22.7 kg) and a lifting table weight of 25 lbs (11.5 kg).
Email us or give us a call at +1 303 277 1188. We're happy to supply all of the answers you're looking for.
Receive a Brochure and Samples
Receive brochures and samples, and get more info from us or your local distributor.