Laser Cutting Systems: How to use an Epilog Laser to Cut Patterns and Designs.
Are you looking for a laser that can laser cut wood, acrylic, plastic, fabric, or many other non-metallic materials? Laser cutting with an Epilog Laser system allows you to create intricate designs and highly detailed cuts in all of these materials and many more.
Attached to your computer just like a printer, the system will cut designs you create in most graphic software programs. Set up your page size to the size of the piece you are engraving, create your image, and print it to the laser - it will even engrave the material with the same system!
Can you cut through metal? No, the frequency of the CO2 laser requires very high wattages of lasers to penetrate through metals. Epilog's CO2 laser systems are best suited to cutting wood, acrylic, plastic, and fabric. Not sure about your material? Talk to our Applications Lab about your material.
The best way to describe how our lasers work is to compare the system to your printer. Using similar technology, we take the images you typically print to paper, but instead we fire a CO2 laser beam that engraves and cuts your design on a wide variety of materials.
Laser: CO2 laser source, 30-120 watts
Engraving Materials: Wood, acrylic, plastic, glass, leather, corian, fabric, coated metals, anodized aluminum, stone, marble, ceramics, mylar, pressboard and more.
Cutting Materials: Wood, acrylic, plastic, delrin, cloth, leather, melamine, paper, rubber, veneer, cork and more.
The Advantages of CO2 Laser Cutting
The laser creates a beam of light that is used to cut through the material, so there is no part of the laser system in contact with the material.
For thinner materials, all Epilog laser systems include an Integrated Vacuum Table to hold down papers, fabrics, and thin plastics as you cut through the material.
It is amazingly precise, following the pattern you've drawn on screen.
Cut several patterns from the same piece of material. You can print to the laser from a variety of programs, including CorelDRAW, AutoCAD and Adobe software.
We manufacture four different product lines of laser engraver systems to meet your needs. From our desktop Zing Laser Series to our top-of-the-line Fusion laser engraving systems, you'll find the right laser engraver to etch your products.
Image to Cutting in a Few Easy Steps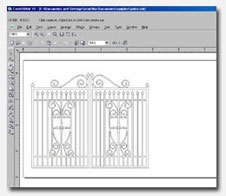 In graphic software, draw or import your shape to be cut. In this example, we are cutting an intricate gate out of 1/8" alder.
The laser system will engrave and cut with the one system, so to let the laser know that the lines we have on screen are to be cut out, we set them to .001". The laser reads all lines below .001" as lines to be cut.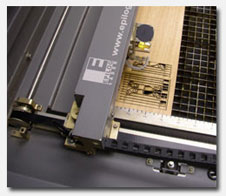 Place your sheet of wood on the table and print the image to the laser. The system is hooked up to your computer just like a printer. Set a speed and power in the print driver for the material you are cutting, and send it to the laser.
The laser will automatically adjust to the correct height based on the thickness of the material you are cutting or engraving.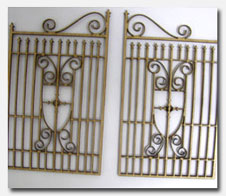 The final product is an intricately cut set of 4" tall gates. As you can see, the laser does a beautiful job with the scroll work and fine detailing. You can use clipart, logos, AutoCAD files, and most other graphic files.
Create wooden photo frames, plaques, inlays, and much more - the opportunities are endless! And the same laser system will also engrave and cut acrylic, plastic, leather, rubber, and many more materials, as well as permanently marking metal.
Why are your laser engraving systems better than a glass laser tube?
By using laser tubes that are made of metal with ceramic components, we are able to fire our lasers at a much faster rate than glass laser tubes, which provide us with much higher quality when engraving. Also our laser tubes are all air-cooled - no water cooling required.
Where can I get more information or set up a demonstration?
Fill out the form on this page and we'll send you laser engraved and cut samples and a full product line brochure that will show you what you can do with a laser engraver machine.
Request Brochure & Samples