Laser Applications
Laser Cut Paper Projects
Paper and an Epilog Laser are the Perfect Match!
Today's paper and cardstock come in a variety of textures, colors, and thicknesses. Plain corrugated cardboard; metallic, white-core cardstock; thin, delicate vellum – the list goes on and on. With so many choices in paper and such a variety of applications, it's no wonder this substrate is very popular in the laser world.
Intricately Cutting Paper
Laser cutters have revolutionized the paper crafting and packaging industries, providing endless opportunities for creativity and precision. With a laser cutter, custom dye lines can be cut out quickly and accurately, allowing for detailed and elaborate packaging and papercrafts.
The ability to cut through various materials, including cardstock, foam, and even wood, opens up a world of possibilities for creating unique and eye-catching products. Additionally, laser engravers allow for customization and personalization on paper products, making each piece truly one-of-a-kind. Whether used for creating invitations, custom packaging, or intricate paper art, laser cutters have become an essential tool for those in the paper crafting and packaging industries looking to take their creations to the next level.
Laser-Cut Greeting Cards
Creating greeting cards with the laser is an application that's quickly growing in popularity. From high-volume production of holiday cards, Mother's & Father's Day cards, graduation cards, etc., to one-off custom 'get well soon' or congratulatory cards with personalized notes, the power of the laser makes it easy to create stunning greeting cards! The accuracy of the laser lets you both cut and perforate, making it simple to create unique, foldable pop-up cards too!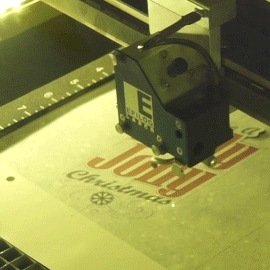 Intricately Cutting Paper
When it comes to precision and accuracy in laser cutting, nothing beats the Epilog Laser machines. The laser is able to cut through paper with incredible accuracy, leaving clean and precise edges that are impossible to achieve with traditional cutting methods. Whether you are cutting intricate designs or simple letters and shapes, the Epilog laser delivers consistent, precise results every time. With its high level of accuracy, you can be sure that your project will turn out just the way you envisioned it. So, whether you are a professional artist, designer, or hobbyist, the Epilog laser is the perfect tool for creating stunning, intricate paper designs.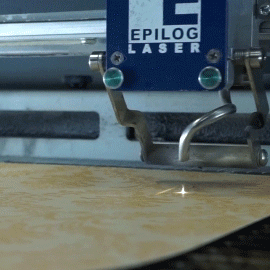 3D Modeling with Paperboard
Using Taskboard and 3D modeling software, you can easily create impressive 3D objects. Programs such as Autodesk's Fusion 360 allow you to take a digital model and transform it into numbered "slices," which can easily be cut by the laser. Using a dowel rod as a center support, you can then slide the pieces in numerical order for quick and easy assembly! This application also works well with simple corrugated cardboard.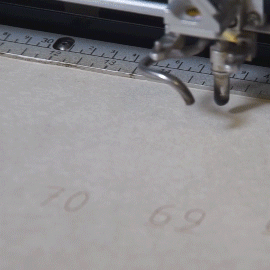 Fusion IRIS Camera Registration Mark Cutting
Epilog Laser's IRIS Camera registration mark-cutting system is a game-changer for paper projects. It ensures precise and accurate laser cutting by automatically recognizing registration marks on the material. Our technology eliminates the need for manual alignment, which saves time and reduces errors. The IRIS Camera registration system allows you to cut pre-printed designs and patterns, making it the ideal tool for your paper finishing needs. Epilog's cutting-edge laser technology will enable you to take your paper products and projects to the next level.
The cameras also provide a real-time preview of the cutting table. In the Epilog Dashboard, you will see a real-time photo representation of the laser table with your printed graphic and its true position on the table or item placed on the work surface. The cut lines from your printed graphic will overlay the image to show a preview of where the laser cuts will occur. From the Dashboard, simply click on the registration marks you want to use and the Fusion IRIS Camera software does the rest.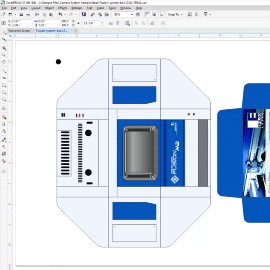 Discover the Opportunities
Paper is inexpensive, versatile, and easy to engrave and cut with your laser system. From invitations, announcements, thank you cards, and well beyond, incorporating this exciting medium into your product offerings can be very profitable!
Engraving is Easy!
Print to your laser from any graphics software
Laser machines work similarly to office printers, so the process is simple. Cutting and engraving with an Epilog is as easy as following these three steps: select your design and print, configure the laser for your material with speed and power settings, and push GO to laser it!
Artwork Setup
Design in your favorite software
Material Settings
Assign speed and power by material
Start Engraving!
Send the job to the laser and press go!
Sample Club
With step-by-step instructions and free graphics files, get new project ideas every month!
You may also like…
Related to: Paper
Which machines are best for laser cutting paper?
Whatever the scope of your paper project, Epilog Laser has a machine that will fit your needs, from entry-level systems to top-of-the line machines.
Fusion Maker 12

Work Area

12″ x 24″
(305 x 610mm)

The newest in Epilog's laser lineup, the Fusion Maker was designed for the entry-level hobbyist or small business owner. This compact system features up to 60 IPS engraving speeds and our popular IRIS Camera System.

Fusion Maker 24

Work Area

24″ x 24″
(610 x 610mm)

Featuring a 24" x 24" engraving table and available in a 40-watt configuration, the Fusion Maker 24 offers users a larger engraving table and more z-clearance to tackle bigger projects.

Fusion Maker 36

Work Area

36″ x 24″
(915 x 610mm)

The largest in the Fusion Maker Laser Series, the Fusion Maker 36 features a 36" x 24" workspace and 50 and 60-watt configuration options. All of the Fusion Maker systems include our IRIS Camera System and 60 inches per second engraving speeds.

Fusion Edge 12

Work Area

24″ x 12″
(610 x 305mm)

Our compact laser system available in several wattage configurations and features up to 120 IPS/3.05 m/s engraving speeds. Also available with a fiber laser source.

Fusion Edge 24

Work Area

24″ x 24″
(610 x 610mm)

A mid-size system that includes Epilog's IRIS Camera System.

Fusion Edge 36

Work Area

36″ x 24″
(914 x 610mm)

The largest system in the Fusion Edge Series, the Edge 36 offers a 36" x 24" (914 x 610 mm) engraving table and comes in a 60-watt CO2 configuration. The Edge 36 features 120 IPS/3.05 m/s engraving speeds, and features built-in Ethernet, USB, and Wireless options for networking your laser.

Fusion Pro 24

Work Area

24″ x 24″
(610 x 610mm)

The smallest in our industrial Fusion Pro Laser Series, the Pro 24 is available in 60 or 80 watts and can be configured as a dual-source system with both CO2 and fiber laser capabilities.

Fusion Pro 36

Work Area

36″ x 24″
(914 x 610mm)

Like all systems in the Fusion Pro Laser Series, the Pro 36 includes Epilog's IRIS Camera System, along with engraving speeds up to 165 inches per second (4.2 m/s).

Fusion Pro 48

Work Area

48″ x 36″
(1219 x 914mm)

The largest of the Fusion Pros, this industrial system is available in 80 and 120-watt configurations, as a dual-source system, and can be networked via built-in Ethernet, USB or wirelessly.