Laser Applications
Engraving Personal Electronics with a Laser
Phone, iPad, Tablet and Personal Electronic Engraving with a Laser
One of the industries we've seen as the most up and coming is electronics engraving. Everything from cell phones to mp3 players to laptops are being customized by lasers.
Whether for security reasons or just to create a statement with your accessories, the demand for customizing electronics is increasing every day.
There is nothing better than making your tablet, phone or other item a true one-of-a-kind item by customizing it with your own design. Whether it is a photo from vacation, your company's logo or just a design that shows off your style. Read on to see how easy it is to create custom engravings with an Epilog Laser system.
Custom etch iPhones, iPods and laptops with a laser engraving system. With Epilog's laser systems you can engrave customized, one-of-a-kind images that really stand out.
Place your laptop, iPhone or other device in the laser, scan in your image and print it to the laser. You'll be able to etch amazing images on all types of devices.
The laser systems work with wood, acrylic, plastics, anodized aluminum and many other materials. Whether you are working with a CO2 laser on the iPhone or plastic laptops, or the Fiber laser on the MacBook, Epilog has a laser system that will meet your needs.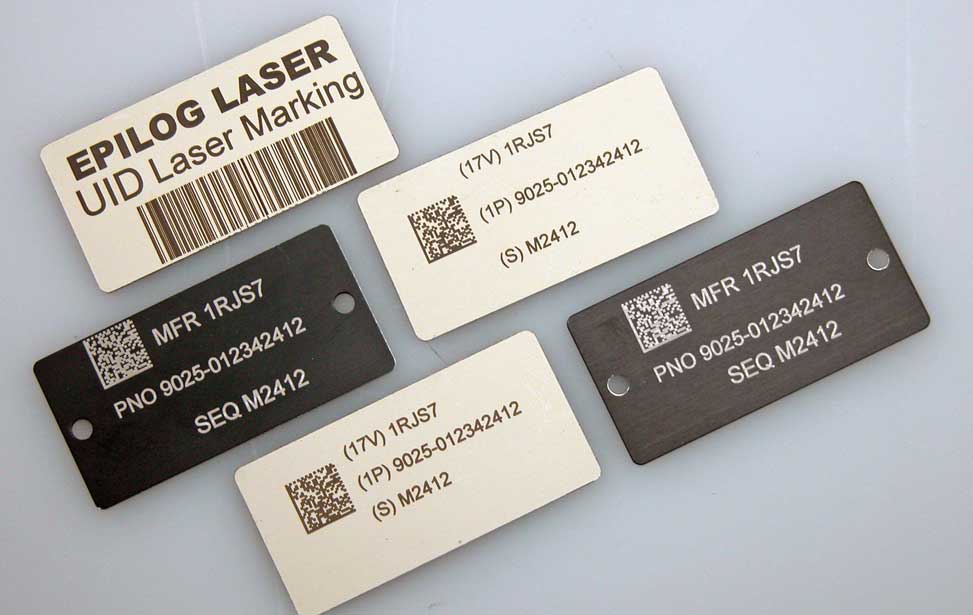 Mark devices for security and tracking.
Companies and universities are looking for ways to secure their employee and student laptops by marking each device with an ID number and logo. You can offer this service for all types of organizations.
Quick positioning for custom engraving
By using our popular Center/Center engraving setting, you can quickly find the center point of the area you want to engrave and send over your custom image in minutes with no complicated setup involved.
Engraving is Easy!
Print to your laser from any graphics software
Laser machines work similarly to office printers, so the process is simple. Cutting and engraving with an Epilog is as easy as following these three steps: select your design and print, configure the laser for your material with speed and power settings, and push GO to laser it!
Artwork Setup
Design in your favorite software
Material Settings
Assign speed and power by material
Start Engraving!
Send the job to the laser and press go!
Sample Club
With step-by-step instructions and free graphics files, get new project ideas every month!
Which machines are best for laser engraving electronics?
Whatever the scope of your electronic project, Epilog Laser has a machine that will fit your needs, from entry-level systems to top-of-the line machines.
Fusion Edge 12

Work Area

24″ x 12″
(610 x 305mm)

Our compact laser system available in several wattage configurations and features up to 120 IPS/3.05 m/s engraving speeds. Also available with a fiber laser source.

Fusion Pro 24

Work Area

24″ x 24″
(610 x 610mm)

The smallest in our industrial Fusion Pro Laser Series, the Pro 24 is available in 60 or 80 watts and can be configured as a dual-source system with both CO2 and fiber laser capabilities.

Fusion Pro 36

Work Area

36″ x 24″
(914 x 610mm)

Like all systems in the Fusion Pro Laser Series, the Pro 36 includes Epilog's IRIS Camera System, along with engraving speeds up to 165 inches per second (4.2 m/s).

Fusion Pro 48

Work Area

48″ x 36″
(1219 x 914mm)

The largest of the Fusion Pros, this industrial system is available in 80 and 120-watt configurations, as a dual-source system, and can be networked via built-in Ethernet, USB or wirelessly.

Fusion Galvo

Work Area

Max 6″ x 6″
(152 x 152mm)

Wattage

30-60
(pulsed/MOPA)

The Fusion Galvo is Epilog's industrial metal marking system that features an adjustable work area, lightning fast speeds, and the powerful IRIS™ camera system for quick and precise artwork placement.