Epilog Laser Sponsors Makerspace Contest on Instructables.com

"I love working with Epilog because not only do we use their lasers in the Autodesk workshop at Pier 9, but because they really inspire our community."

Eric Wilhelm, founder of Instructables.com and director of communities at Autodesk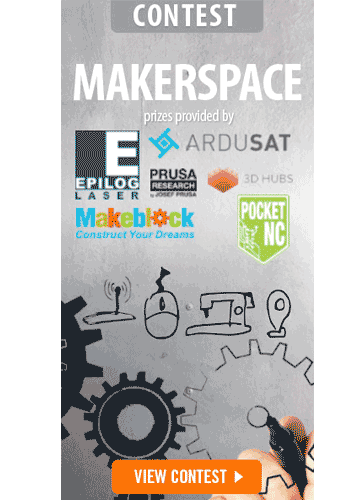 Golden, Colo. (June 2, 2016) – Epilog Laser is excited to sponsor the second annual Makerspace Contest on popular DIY site, Instructables.com! The contest opens June 1 and closes Aug. 31. The grand prize is a 40-watt Zing 24 Laser from Epilog.
"We've been supportive of the maker movement since its inception," said Mike Dean, vice president of sales and marketing for Epilog Laser. "I'm nothing short of amazed when I see the creative and inventive ideas coming from makers and makerspaces. We're so excited to be part of this amazing competition once again."
"I love working with Epilog because not only do we use their lasers in the Autodesk workshop at Pier 9, but because they really inspire our community," said Eric Wilhelm, founder of Instructables.com and director of communities at Autodesk.
Last year's Makerspace Contest winner was UK-based Coventry Makerspace who submitted the most number of featured instructables - an impressive 248 DIY projects!
In addition to the Zing 24 from Epilog, Pocketnc, Ardusat, Makeblock, Prusa 3D, and 3D Hubs will also be providing prizes in the competition.
Instructables.com is a popular project-sharing online community that provides publishing tools to help passionate, creative people share their most innovative projects, recipes, skills and ideas.
For more information on Epilog Laser, visit epiloglaser.com. To learn more about Instructables.com and read the official rules for the 2016 Makerspace Contest, visit instructables.com/contest/makerspace.
For more information, contact:
Amy Dallman
Marketing Communications Specialist
Epilog Laser
+1 303 277 1188