Epilog Laser Releases Fusion M2 40 Laser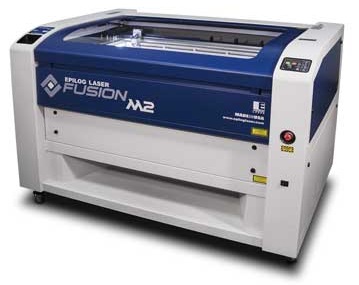 "With its larger size, the Fusion M2 40 allows our customers to tackle even larger jobs – both CO2 and fiber applications – in one system. Now, regardless of material – wood, bare metal, acrylic or other engineered plastics – our users have a large-scale, single system that will process all these materials, within the same job."

Mike Dean, Epilog Laser
Golden, Colo. (Nov. 23, 2015) –Epilog Laser is excited to announce the addition of the Fusion M2 40 to the company's laser line up. Following the great success of the Fusion M2 32, Epilog has adapted the technologies developed for the Fusion M2 series into the top-of-the-line 40" x 28" (1016 x 711 mm) system, including the popular dual-source capabilities and eView Camera Module. Epilog has also incorporated significant improvements in the exhaust airflow and enhanced the cooling of all heat-generating components.
"With its larger size, the Fusion M2 40 allows our customers to tackle even larger jobs – both CO2 and fiber applications – in one system," said Mike Dean, vice president of sales and marketing for Epilog Laser. "Now, regardless of material – wood, bare metal, acrylic or other engineered plastics – our users have a large-scale, single system that will process all these materials, within the same job."
In addition to high-quality components and unparalleled cutting and engraving results Epilog's equipment is known for, the Fusion M2 40 features dedicated optics and a dedicated beam path for each of the laser sources before combining the paths prior to focusing. "Other dual-laser systems compromise on optics or force you to switch out the laser source and/or the optics," Dean said, "but with the M2 40 there's no need to swap out anything; everything happens automatically."
Click here for complete tech specs on the Fusion M2 40.
For more information, contact:
Amy Dallman
Marketing Communications Specialist
Epilog Laser
+1 303 277 1188