Fairway Laser Systems Releases Event Schedule for New Facility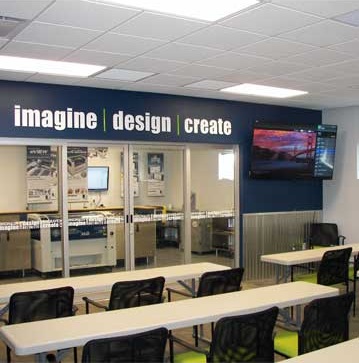 "We're excited to expand our capabilities and bring a higher level of service and support to our customers and potential buyers. We'll be coordinating a variety of events, including an open house, beginner laser seminar, Corel clinics and much more!"

Dan Molchan, owner and president, Fairway Laser Systems
Golden, Colo. (April 7, 2016) – Fairway Laser systems, Epilog Laser's exclusive distributor in Illinois, Indiana, Ohio, and Michigan (excluding the Upper Peninsula), is excited to release the event schedule for their newly completed, cutting-edge facility in Valparaiso, Ind. In conjunction with the opening of their new facility, they have developed the Fairway Laser Summer School, a series of educational classes designed for both current laser owners as well as those interested in adding a laser to their business in the future.
"The new building is fully functional and we can't wait to reveal the facility to customers, potential customers, friends, and family!" said Dan Molchan, president and owner of Fairway Laser Systems. "We're excited to expand our capabilities and bring a higher level of service and support to our customers and potential buyers. We'll be coordinating a variety of events, including an open house, beginner laser seminar, Corel clinics and much more."
Please visit these pages or contact Fairway Laser Systems to RSVP and/or register for any upcoming events! 
www.fairwaylaser.com
fairwayeducation.setmore.com

Fairway Laser Event Calendar:
April 14 - Lasers 101
1 – 4 p.m.
No cost
Lasers 101 is an introduction to the versatility of laser systems, how they work and how they can be a valuable tool for any business.



May 13 – CorelDRAW Basics
10 a.m. – 4 p.m.
Cost: $99
This class focuses on the most commonly used drawing tools and techniques used in CorelDRAW. Simple text creation and placement, quick editing of premade graphics and clipart, and breaking/modification of graphics and text are just some of the topics covered. The goal of this class is to lay a foundation of understanding of the frequently used tools every laser owner should know. This class is geared toward new owners or people with little CorelDRAW experience.



May 20 – Celebratory Open House
Noon – 4 p.m.
No cost
Join us for the formal grand opening of the new Fairway Laser Systems facility! The team at Fairway will be on offering tours of the new building, laser demos and refreshments!



June 10 - Working with Photos
10 a.m. – 4 p.m.
Cost: $99
This class is structured exclusively on photograph engraving. It covers the ins and outs of photo manipulation to achieve the best quality. It will discuss the best materials to achieve the highest quality engraving. Above all, it will focus on using EngraveLab PLP to make photo engraving as simple as a few button clicks.



July 8 - Advanced CorelDRAW
10 a.m. – 4 p.m.
Cost: $99
For those that already have a basic background in Corel Draw, this class will focus on the more advanced tools and techniques used in conjunction with the laser. Redrawing graphics, tiling images for large jobs, setting up jigs and fixtures for multiple engravings, and setting up color mapped jobs are just some of the many topics covered. The Advanced Basics class is for those that want to dive deeper into Corel Draw than simple text and clipart to take their cutting and engraving work to another level. Basic Corel knowledge encouraged.



August 12 - Maintenance and Troubleshooting
10 a.m. – 4 p.m.
Cost: $99
Many companies and businesses rely on their laser system day in and day out and so keeping the machine up and running is vital. During the course of this class we will be going over the weekly, monthly and yearly maintenance steps to keep your laser running like new. We will also go over how to troubleshoot many of the most common issues. We will not only point out the causes for these errors, but also how to fix them so that no business is down longer than they have to be.


All events will be hosted at Fairway Lasers' new corporate facility located at:
950 Transport Drive
Valparaiso, IN 46383
219-462-6892
Click here for a map.

Please visit these pages or contact Fairway Laser Systems to RSVP and/or register for any upcoming events!
www.fairwaylaser.com
fairwayeducation.setmore.com


For more information, contact:
Amy Dallman
Marketing Communications Specialist
Epilog Laser
+1 303 277 1188