Epilog Laser Canada, ULC. Grand Opening Oct. 16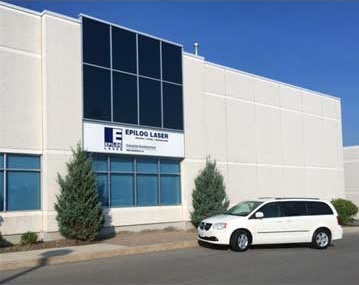 "We're incredibly excited for this expansion. It's been in the works for quite some time and we're thrilled to be able bring a whole new level of service and support to our Canadian customer base."

Mike Dean, Epilog Laser
Golden, Colo. (Sept. 17, 2015) –Epilog Laser is excited to announce the opening of Epilog Laser Canada, ULC., a wholly-owned subsidiary of Epilog Laser. The Canadian sales and support facility, located in Mississauga, Ontario, is hosting an open house celebration Oct. 16 that will include tours, demonstrations, a laser clinic and more!
"We're incredibly excited for this expansion," said Mike Dean, vice president of sales and marketing for Epilog Laser. "It's been in the works for quite some time and we're thrilled to be able bring a whole new level of service and support to our Canadian customer base."
Dean, also known as "Mr. Epilog", will be conducting a laser seminar at the grand opening from 5 to 8 p.m. on Oct. 16.
Open House hours: 10 a.m. – 8 p.m., Friday, Oct. 16
Laser Seminar: 5 – 8 p.m., Friday, Oct. 16.  Registration is required – fill out the form here.
Private demonstrations will be available by appointment only on Saturday, Oct. 17. To reserve a spot, please contact Epilog Laser Canada at 905-608-1188. 
Day-to-day operations at Epilog Laser Canada will be run by Terry Fix, sales manager, and Gilles Frenette, territory sales manager at Epilog Laser Canada. Fix and Frenette are both long-time laser professionals who are widely-known and respected throughout the industry.
"Not only does Epilog engineer and manufacture the most solid systems in the industry, their passion for customer service and laser education is the best," Frenette said. "I'm honored to be part of the Epilog Laser Canada team, and I look forward to working with new and existing customers here, as well as continuing to bring Epilog's legendary customer service to the Canadian market."
 "I couldn't be happier to be part of this exciting development," Fix said. "Epilog Laser Canada will continue working diligently to provide above and beyond sales and support to our Canadian customers."
Epilog Laser Canada, ULC.
3715 Laird Road, Unit 14
Mississauga, Ontario, L5L 0A3
Phone: 905-608-1188
Fax: 905-608-1199
For more information, contact:
Amy Dallman
Marketing Communications Specialist
Epilog Laser
+1 303 277 1188