Epilog Laser Job Management Software Now Available for Entire Current Product Line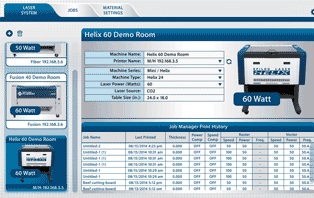 "Perfecting your laser parameters and maximizing your materials is one of the biggest parts of success in the laser industry. The Epilog Job Manager gives customers a great opportunity to develop a customized work-flow processing system that allows them to get the most from their Epilog Laser system, and we're excited to make it available to more of our customers"

Mike Dean, vice president of sales and marketing for Epilog Laser.
Golden, CO (Aug. 18, 2014)
Epilog Laser, the leading designer and manufacturer of CO2 and fiber laser engraving, cutting and marking systems, is excited to announce the company's popular Job Management Software is now available for all machines currently in production (Zing 16, Zing 24, Mini 18, Mini 24, Helix, Fusion 32, Fusion 40, FiberMark 24, and FiberMark Fusion). The software can be downloaded at: epiloglaser.com/tech-support/epilog-drivers.htm
"The Job Manager is revolutionary in how it essentially allows users to create their very own custom files structure, which helps them streamline their engraving processes and significantly reduce downtime," said Mike Dean, vice president of sales and marketing for Epilog Laser. "Not only can users access job time recorders, a materials database and much more, they can tailor the software so that they can easily locate and replicate jobs at the touch of a button."
Epilog's Job Manager features:
• Permanent Job Storage – permanently store an unlimited number of jobs.
• Job Recording – Automatically record all of your jobs and laser parameters.
• Project Time Stamp – Date and time is recorded for each laser job.
• Organize and Search functions – Create and name an unlimited number of folders and sub-folders and interactively search for past projects.
• Multiple Machine Database – Perfect for those with numerous laser systems connected to one computer.
• Materials Database – A full materials database including laser processing parameters for common materials.
• Print Preview – Zoom in and preview every pixel of every job – you can even review and edit laser parameters and print from the preview screen!

This is the second non-beta release of the Epilog Job Manager and in addition to the features above, the software now offers multi-language support (Spanish, French, Chinese and Japanese), and multi-page jobs.
"Perfecting your laser parameters and maximizing your materials is one of the biggest parts of success in the laser industry," Dean said. "The Epilog Job Manager gives customers a great opportunity to develop a customized work-flow processing system that allows them to get the most from their Epilog Laser system, and we're excited to make it available to more of our customers."
For more information, contact:
Amy Dallman
Marketing Communications Specialist
Epilog Laser
+1 303 277 1188