Epilog Laser Announces Seventh Annual Epilog Challenge Hosted on Instructables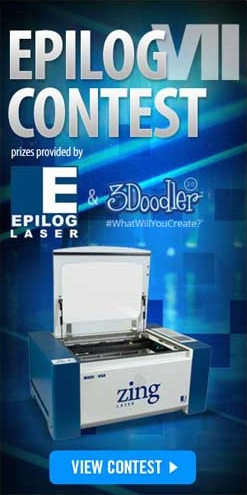 "We've always been tremendously supportive of makers and we're honored and thrilled to continue the Epilog Challenge series with Instructables"

Mike Dean, Epilog Laser
Golden, Colo. (Sept. 1, 2015) – Epilog Laser, the leading designer and manufacturer of CO2 and fiber laser engraving, cutting and marking systems, is excited to announce the Epilog Challenge contest is back for round seven, and will be hosted on Instructables.com.
Epilog Challenge VII is now open and runs through Nov. 16, 2015. The lucky grand prize winner will receive a 30-watt Zing 16 Laser from Epilog.
"The creativity, originality and sheer enthusiasm we see in in the entries for every Epilog Challenge never ceases to amaze me," said Mike Dean, vice president of sales and marketing for Epilog Laser. "We've always been tremendously supportive of makers and we're honored and thrilled to continue the Epilog Challenge series with Instructables."
"I love giving away these tools and enabling Instructables authors to take it to the next level," said Eric Wilhelm, founder of Instructables.com and director of communities at Autodesk.
In addition to the Zing 16 grand prize, 3Doodler will be providing 20 3Doodler 2.0 pens to first prize winners!
Instructables.com is a popular project-sharing online community that provides publishing tools to help passionate, creative people share their most innovative projects, recipes, skills and ideas. To learn more about Instructables.com and read the Epilog Challenge VII official rules, visit www.instructables.com/contest/epilog7.
For more information, contact:
Amy Dallman
Marketing Communications Specialist
Epilog Laser
+1 303 277 1188