DIY Fingerprint Scanning Garage Door Opener Takes Grand Prize in Epilog Challenge VI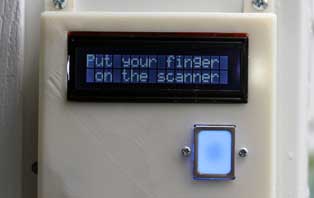 " I can't wait to use the Zing 16 to help create and cut and engrave parts on my FIRST robotics team's robot. The Zing 16's precision will also help me create reliable PCBs for use in future projects, as well!" "

Noah Del Coro, Epilog Challenge VI winner
Golden, CO (Oct. 24, 2014)
Epilog Laser is pleased to announce high school junior and FIRST Robotics team member Noah Del Coro of West Hartford, Conn., is the grand-prize winner in the sixth installment of the highly-popular Epilog Challenge hosted on Instructables. Del Coro will receive a 30-watt Epilog Zing 16 Laser engraving/cutting system for his creative "DIY Fingerprint Scanning Garage Door Opener" Instructable. The winning entry was one of 701 Instructables submitted for the Epilog Challenge VI.
"I can't wait to use the Zing 16 to help create and cut andengrave parts on my FIRST robotics team's robot," Del Coro said. "The Zing 16's precision will also help me create reliable PCBs for use in future projects, as well!" Del Coro said he'll be storing the laser at the makerspace used by his FIRST team. "I can't wait to see what other people create," he said. "To say I'm excited to have won an Epilog Laser cutter is truly an understatement."
"Once again the creativity and ingenuity behind this year's batch of entries was very impressive," said Mike Dean, vice president of sales and marketing for Epilog Laser. "Given Noah's robotics and electronics background, I'm sure we'll see some wonderful laser-created projects coming from him."
"I love being able to give great tools to our extremely creative and talented authors!", said Eric Wilhelm, founder of Instructables.com and director of communities at Autodesk. "I can't wait to see what they make next!"
First prize winners include: CNC Laser for Printing Images and Engraving; Building a 1:1 Scale Portal Gun with Lights; Pulsing Fluidic Heart Micropump; Stargate Privacy Vault; and the Arduino Controlled CNC / 3D Printer Hybrid. First place prize winners will receive a one-hour project consultation and laser cutting/engraving services from Factory eNova.
Instructables is one of the most popular Do It Yourself online communities. Started in August 2005, Instructables provides accessible tools and publishing instructions to enable passionate, creative people to share their most innovative projects, recipes, ideas, and hacks. The site is currently home to over 100,000 projects covering such diverse areas as crafts, art, kids, electronics, pets, bikes, cars, robotics, green projects, and cooking... For more information on Epilog Laser, visit epiloglaser.com. To learn more about Instructables.com and view entries and finalists, visit instructables.com/contest/epilog6/
For more information, contact:
Amy Dallman
Marketing Communications Specialist
Epilog Laser
+1 303 277 1188