Epilog Laser Celebrates 25th Anniversary in 2013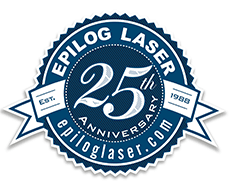 The words 'proud' and 'excited' don't even begin to describe how we're feeling as a company. We love what we do, we love our customers and we've loved spending the past 25 years learning, improving and designing equipment that helps our users create and grow their businesses.

Mike Dean, vice-president of sales and marketing
Golden, CO (Jan. 25, 2013) Following a hugely successful year in 2012, Epilog Laser is excited to mark 2013 as the company's 25th year in business.
"The words 'proud' and 'excited' don't even begin to describe how we're feeling as a company," said Mike Dean, vice president of sales and marketing for Epilog Laser. "We love what we do, we love our customers and we've loved spending the past 25 years learning, improving and designing equipment that helps our users create and grow their business."
Epilog Laser was created in 1988 by Georgia Tech classmates and friends, Steve Garnier and John Doran. The two eventually became the company's CEO and vice president of engineering, respectively. In just 25 years Epilog Laser has gone from basement operation to industry leader in the design and manufacturing of CO2 and fiber laser systems.
In the past 25 years Epilog Laser has created a strong line of CO2 and fiber laser engraving, cutting and marking systems used across the globe for a myriad of applications.
The company has also enjoyed receiving such honors as being ranked in the top ten best places to work in the Denver Metro area five times; launching the entry-level Zing 16 Laser in 2008, which then was named one of the top products of the year by CorelDRAW Pro Magazine; receiving the 2012 North American Customer Value Enhancement Award from Frost & Sullivan, among many others accolades.
"Of course we didn't get here alone," Dean said. "Our sincerest thanks and appreciation go out to our dedicated employees, our wonderful distributors, and most of all, Epilog Laser customers - without such a strong force believing in us and our product, none of this would be possible."
For more information, contact:
Amy Dallman
Marketing Communications Specialist
Epilog Laser
+1 303 277 1188