Looking Back on 2015 - a Year in Review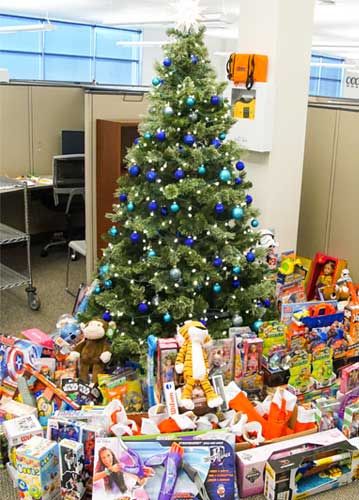 "2015 brought its share of ups and downs, but overall has been an exceptional year for us. We lost two wonderful employees to illness; however, we united as a company and family to pull through. On a much brighter note, we also had an exciting year with new products, developments and a few new faces to add to the team."

Mike Dean, vice president of sales and marketing, Epilog Laser
Golden, Colo. (Dec. 22) – As another year comes to a close, we at Epilog Laser always enjoy looking back over the exciting announcements, events and accomplishments we experienced in the past 12 months. 2015 has been an incredible year for us. We extend our sincere appreciation to our employees, distributors, customers, fans and and friends for their continued support this and every year. Here's what we've been up to this year:
Our exclusive distributors in Australia gave away a Mini 24 in a sweepstakes drawing early in the year - the lucky winner was Architectural Sign Industries!
We proudly launched the new Fusion 32 M2 dual-source laser system.
And along with the Fusion 32 M2, we announced the addition of the eView Camera Module to the Fusion Laser Series!
We sponsored the inaugural Makerspace Contest on Instructables.com, donating a 40-watt Zing 24 and vector grid as the grand prize! Coventry Makerspace in the UK was the lucky winner of the new laser system.
Epilog Laser was named the #1 Best Place to Work in Denver by the Denver Business Journal. This was our seventh nomination and first first-place win!
We partnered again with Instructables.com for the Seventh Annual Epilog Challenge. One lucky winner will receive a brand new 30-watt Zing 16 Laser for the best instructable!
After launching Epilog Challenge VII, we headed up north to open Epilog Laser Canada, ULC., a wholly-owned subsidiary of Epilog Laser. The Canadian sales and support facility, located in Mississauga, Ontario.
Following the great success of the Fusion M2 32, we adapted the technologies developed to create the Fusion M2 40, including the popular dual-source capabilities and eView Camera Module!
As the holiday season got underway, Epilog coordinated our annual toy drive - this year we were able to raise $1475 dollars and we donated over 300 toys to the Santa Shop at The Action Center in Jefferson County, CO.
While things are winding down now, Epilog is very much expanding - in the last month alone we've brought several new people on to the team, including Chris Carpenter, director of IT; Wayne Kunze, test engineering manager; and Sara Pettit, human resources manager. We're excited to have them all on board.
With 2016 just weeks away, Epilog is looking forward to making sure next year will be filled with more exciting announcements and accomplishments.
We'd like to extend our sincere thanks to you - our customers, friends, fans and associates - for your support in helping make 2015 one of the best years in the history of Epilog Laser. Merry Christmas, happy holidays and best wishes to all for a wonderful and prosperous new year.
For more information, contact:
Amy Dallman
Marketing Communications Specialist
Epilog Laser
+1 303 277 1188