Thank you for subscribing to Epilog Laser News. Here you can keep tabs on the latest from Epilog Laser, video demos & tutorials, educational opportunities, and more!

Holiday closure reminder: Epilog's corporate offices will be closed Thursday, November 25 and Friday, November 26 for the Thanksgiving holiday. Regular hours will resume Monday, November 29. We are so thankful for the continued support and enthusiasm of our customers, employees, distributors, and fans. We wish you all a safe and happy Thanksgiving.
Video Spotlight: Custom Thanksgiving Pies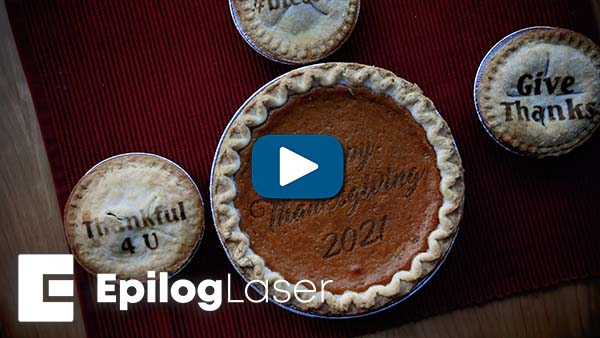 Engraving Thanksgiving Treats with your Laser
Food engraving is always a hit, especially as the holiday season gets underway. There's just something mesmerizing about watching a laser engrave a custom message on pies, cookies, and other sweet treats. It's not an exact science - the results will vary based on the water and sugar content of the pies, as well as how flat your surface area is. We love showcasing this unique application around this time of year. Enjoy and happy Thanksgiving!